Replace your teeth in one visit with computer guided
keyhole implant treatment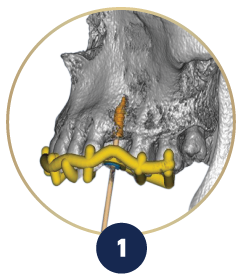 Precise digital planning
A 3D image is taken and impressions are scanned and perfectly married together. The implant is then digitally placed in the ideal, perfect location with extreme accuracy.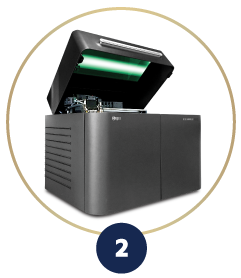 3D printed template production
A precise 3D printed surgical guide is produced based on the digitally planned implant position.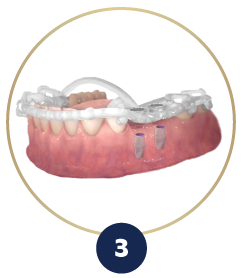 Keyhole implant surgery through 3D printed template
Replicate the position of the digitally placed implant. Predicable and precise outcomes.
Implant intergration and crowning
Beautiful, predictable and permanent tooth replacement
The Ultimate in Tooth Replacement -
They are stand alone, require no support or pressure from adjacent teeth and in most cases, with proper care and placement, last a life-time! These can be used to replace single, multiple or full arches of teeth without the need for dentures.
The Implant Process
The full treatment of an implant occurs in 2 stages, the implant placement and the restorative crown. Before anything, a detailed consult takes place to discuss the process, objectives and costing. Impressions may be taken here and a referral for a detailed 3D radiograph to ensure proper treatment planning.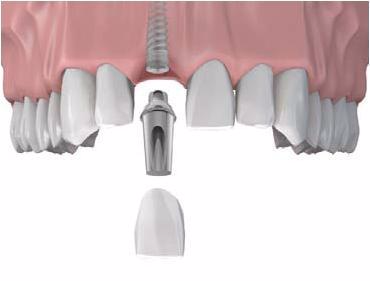 Stage 1: Placement of the Implant
After you initial consult where the implant is discussed entirely and all treatment objectives, processes and costing are explained. A sophisticated titanium-based screw is placed into the upper or lower jaw using a precise 3D-printed surgical guides to ensure perfect placement position. Due to the biological pre-coating on the implant, it integrates with the bone as though it was a natural tooth root. This makes the implant feel like your own tooth. This can be done under local anaesthetic. Sedation options are also available if that would make you feel more comfortable. Don't worry, a temporary tooth replacement can be provided at this stage (or prior if you so wish)!

Stage 2: Restoration
After this integration has occurred and the implant is tested firm, an impression (mould of your mouth and implant) is made and a perfectly colour-matched full porcelain crown is constructed and placed securely. You are now good to go!
Benefits of Implants:
Stand alone – Implants are supported by themselves and do not rely on support by joining to other teeth, such as in bridgework
Next best thing to healthy, natural teeth
Built to last. Dental implants are a long-term solution
Retain your natural face shape, and smile
Protect healthy bone – When a tooth is lost, bone shrinks, implants can maintain bone levels and support of adjacent teeth
Speak and eat with confidence – no worry about dentures moving or falling out
Do You Already Have Dentures?
Do you have a full upper or lower denture which wobbles or lifts when speaking or eating? Implants can also be used with your current denture! With only 2 implants upper or lower, your current denture can be altered to include locators which firmly "click" into the implants providing rock solid support whilst minimising the financial outlay for a full arch replacement of implants. You will be able to speak and eat with absolute confidence that your dentures will never lift or fall out again! Implants can be used alongside Invisalign, crowns, veneers and gingival contouring for a complete smile makeover.