Where you get informed and gain control of your dental health.


A lot of people haven't been to a dentist for many years. Some of these people are embarrassed by their teeth and hence avoid the visit. This leads to further inflammation of gums, bigger holes, worse breath, more embarrassment and more avoidance of the dentist... as the vicious cycle goes. Please rest assured that we have seen it all! We applaud those willing to take control so that their mouths are no longer a negative but a positive in their lives.
At this appointment, we will inspect every tooth individually for:
Decay
Fractures
Broken restorations
Erosion (acid wear)
Vitality
Then, as a whole, we assess:
Bite relationship
Crowding
Muscles of mastication (opening and closing muscles)
Alignment
Wear from grinding
Shade of your teeth
Functional ability
Radiographs are also recommended at this appointment. Usually, considering a full set of teeth, we would recommend bitewing radiographs (one on each side) that shows areas under fillings and where teeth contact (the spots we cannot physically see or feel).

Generally, these are updated every 2-3 years, not at every routine examination. We may even consider an OPG radiograph to assess bone levels (gum health) and possible impaction of wisdom teeth.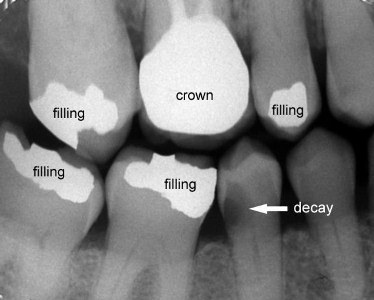 We then do a thorough assessment of your gingival (gum) health by checking for signs of inflammation and pocketing, that may suggest gum disease and potential bone loss, which is assessed via an OPG radiograph. Intra-oral photos are then taken so you can see what we see on the monitor and so that you can be fully informed.

By the end of the appointment, you should feel as though you completely understand the ins and outs of your dental health. You will then be presented with a fixed quote for the recommended treatment with potential options available. We can tailor a plan to be as conservative or ideal as you like. If anything is under quoted i.e. a quoted 3 surface restoration turns into a 5 surface restoration, the required treatment will be completed and the quote will be the same. If you are over quoted and the decay removed is less than expected, your bill will drop.